Who We Are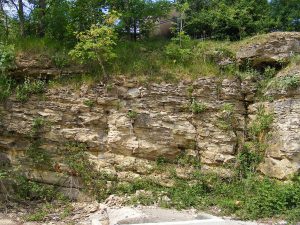 We are part of a national network of largely county-based volunteer groups under the umbrella organisation Geoconservation UK. We meet at the Dorset Wildlife Trust (to which we are affiliated) every two months to discuss conservation projects, and update members on the progress of on-going conservation work.
What We Do
Although the Jurassic Coast in Dorset is well-known for its status as a UNESCO World Heritage Site for its geological interest, there are also many inland sites of great geological interest and importance. Some are natural exposures; others are old quarries or pits where the rock was worked for building stone, lime production, brick making or pottery clay.
Many of these important sites need regular simple maintenance to ensure that rock faces are clear of vegetation and access paths kept open for visitors.
Members of DIGS are all volunteers. We have very varied backgrounds and careers and some of us are now retired. All have a common interest in geological conservation.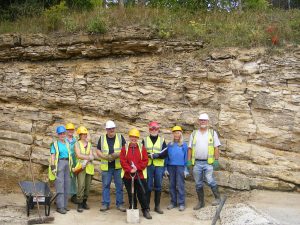 The Sites
Over 60 sites in Dorset have been designated as Regionally Important Geological/ Geomorphological sites (RIGS). They are also known as Local Geological Sites (LGS) or simply Geological Sites. They were chosen on the basis of their educational value for students of all ages, their historical value in the study of earth sciences, and their aesthetic value in the landscape, especially in promoting public awareness of geology. To this end some sites have interpretation boards describing the local geology and landscape.
Some members also work with the Dorset Geologists' Association Group and the Open University Geological Society to lead geological walks and give talks to the general public.