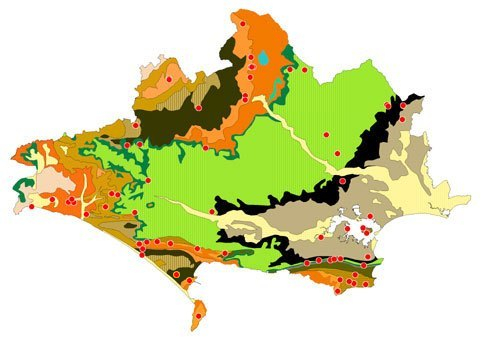 The above map of Dorset shows all the RIGS Sites as red dots. To explore further and magnify each quarter of the map, place the mouse over the map quadrant and left-click the mouse button. Or click on the appropriate page here:
SITE VISITS: GUIDANCE
Regionally Important Geological and Geomorphological Sites in Dorset have been selected from approximately 800 records of sites of geological interest held in the Dorset Environmental Records Centre, primarily for their potential as teaching sites.
Brief descriptions and maps, together with the names of owners, agents and contacts, are held in the planning offices of the relevant District Council, in the Dorset Environmental Records Centre, the Dorset Wildlife Trust, the Dorset County Museum and the Dorset Countryside Service. Anyone wishing to visit any of these sites MUST OBTAIN PERMISSION FROM THE OWNERS, and have their own insurance cover, as DIGS cannot accept any responsibility.
Contact telephone numbers and further detailed information sheets on some sites may be obtained by e-mail.
Leaflets on the geology of Brownsea Island and the disused quarry at Crack Lane, Langton Matravers may be obtained from The National Trust on the island or at their Corfe Castle study centre.
Visitors to any site, who should be legitimate organised educational parties or research workers, MUST obtain permission from the owner.
Access: By prior arrangement for contact details.
It is important that the Code for Geological Fieldwork (published by the Geologists' Association,  Burlington House, Piccadilly, London, W1V 9AG) is observed at all times during a visit. This incorporates the Country Code but expands its advice to include warnings on the need for protective clothing – especially hard hats, the need to follow precisely the directions of working quarry managers and the requirement to keep hammering to an absolute minimum.Collecting specimens should also be responsible and in general in situ fossils or minerals should not be removed. Collecting should be restricted to scree or waste tips.
At some sites, piles of surplus material have been set aside for collectors. Excavation should also be discouraged. The integrity of the site should be respected. Remember, it is a geological study site for everyone.
School parties would benefit from reading 'Rocks, Fossils and Minerals – how to make the best of your collection' published by the UK Geological Curators' Group for the geologically interested young enthusiast. Leaders of parties are advised to make sure that their group is covered by public liability and personal accident insurance.