Shipstal Point, Arne SY983.883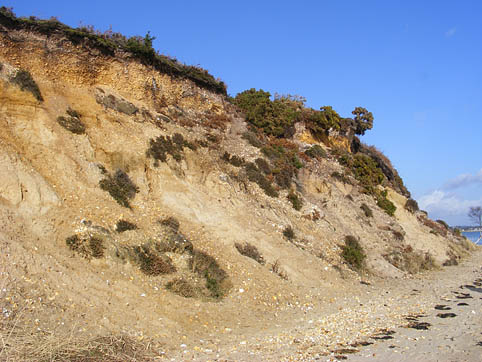 Site description: Cliff exposure for some 300 metres south of Shipstal Point.
Access: Please observe RSPB Reserve notices. Viewing of the site from the beach is possible at all times, but any visitor wishing to examine the exposure in more detail MUST obtain written authority from Arne Nature Reserve. No excavations are permitted on the cliff face.
Geology: Tertiary, Eocene, Poole Formation and River Terrace deposits. The cliff, approximately 300 metres in length, varies in height from 10 metres in the south to 1 metre in the north. Because it is predominantly unconsolidated sand, it is prone to slumping and is easily eroded. It has been formed by weathering and erosion by the water of Poole Harbour. The top layer is a thin black band of peaty soil, supporting heathland plants. The uppermost sand and pebbles were deposited under sub-artic conditions during the last ice age. Below this are some 9 metres of Poole Formation showing current bedded fine to coarse quartz sands with occasional lenses of white clays, deposited by a river flowing from west to east about 45 – 50 million years ago. The sands, which have been identified as underlying the Broadstone Clay, were areas of fast flowing water that washed away the finer material, while the clays were the deeper pools where the finest material collected.
At the southern end of the cliff there is a saucer-shaped feature which is made up of relatively large pebbles. Here a more recent, fast flowing stream ran perpendicular to the cliff face. The Tertiary Poole Formation beds have been cut into by this river channel, which is part of the 4th River Terrace deposit of the Piddle-Frome river system, formed during the last 1 million years.
NOTE: Arne SSSI overlaps Shipstal Point RIGS, but does not describe this particular exposure.
Access: No restriction
Parking: There is a RSPB car park at Arne. Access to the site is by bridleway from this car park. Long walk!
Size of party: 25
Education level: Schools upwards.
References:
Arkell WJ 1947: Geology of the country around Weymouth, Swanage, Corfe & Lulworth. Memoir Geological Survey UK, p. 226 & 327.
Bristow CR & Freshney EC 1987: Geology of Sheet 98NE and parts of ST98NW, SW, SE and SZ08NW and NE (Arne-Wytch Farm, Dorset. British Geological Survey Report WA/87/28.
Bristow CR, Freshney EC & Penn IE 1991: Geology of the country around Bournemouth. Memoir British Geological Survey, p. 48 &89.
House M 1993: Geology of the Dorset Coast. Geologists' Association Guide. (Introduction has useful background information).
May VJ 1976: Cliff erosion and beach development, Shipstal Point. Dorset Proceedings, 97, 8-12.
DIGS June 1998.