St. Aldhelm's Head Quarry SY964.761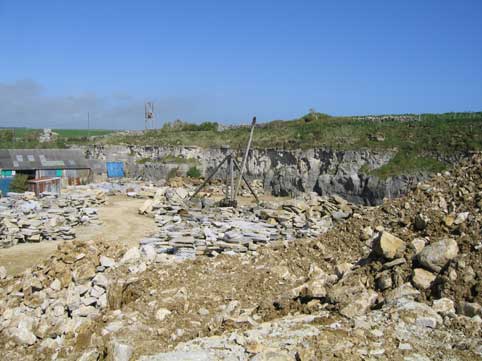 Site description: Working quarry.
Geology: Jurassic, Portland Limestone Formation. Freestone Series (Winspit Member of Townson). The beds exposed are the Shrimp Bed, in which crustaceans have been found; the Spangle, in which fossils have been replaced by calcite crystals; the Blue Bed (Titanites bed) containing a rich ammonite fauna; and the Pond Freestone. Both the Spangle and the Pond Freestone are building stones used in Dorset and further afield. This is the only working quarry remaining where these two building stones can be obtained for restoration work. It is therefore important for building conservation as well as geological studies.
Access: By prior arrangement, e-mail us for contact details.
Parking: Public car park with room for a coach or many cars at entrance to track near Renscombe Farm, Worth Matravers.
Size of party: 25
Education level: A level/University