Chesters Hill, Abbotsbury SY576.836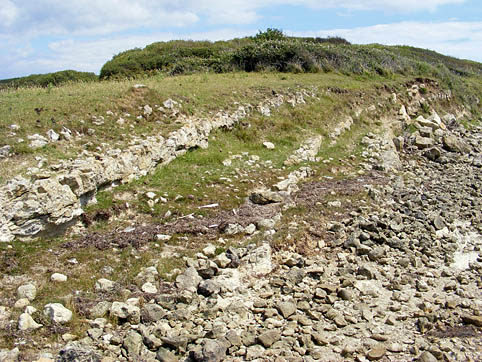 Site description: Coastal exposure between Berry Coppice (SY587.830) and Shipmoor Point (SY 576.836).
The site has SSSI, AONB, RAMSAR and Heritage Coast status. The site falls within the conservation area of the Chesil Beach, Fleet Nature Reserve and Abbotsbury Swannery. The site also has major conservation interests with regard to wild birds under E.C. directives.
Geology: Jurassic, Cornbrash. 4m Upper Cornbrash and 2m Lower Cornbrash. This is the most complete section of exposed Cornbrash along the Dorset coast. A full description can be obtained from W.J. Arkell, 1947, Geology of the Country around Weymouth, Swanage, Corfe & Lulworth, pages 21-23. Also J.A. Douglas & W.J. Arkell, 1928, The Stratigraphical Distribution of the Cornbrash. Quart. Journ. Geol. Soc., 84, 152-5
Access: Permissive access during the month of August only, after 5 p.m. Access from New Barn Road lay-by, through field gate following field boundary and west side of Berry Coppice to West Fleet. No dogs.By prior arrangement e-mail us for contact details.
Parking: Lay-by off New Barn Road (SY589.835).
Size of party: Organised, disciplined parties up to a maximum of 15 persons. Prior arrangement must be made through Abbotsbury Swannery and/or Chesil Bank and Fleet Nature Reserve as well as the tenant farmer.
Education level: A level/University.
Restrictions/constraints on site: No hammering. No removal of in situ material. Removal of loose specimens from the base of the section must have prior permission from English Nature, Abbotsbury Swannery or the Chesil Bank and Fleet Nature Reserve.
Other information: The reason for the limited range and time of access is to cause minimum stress and disturbance to the important swan colony, nesting/roosting/feeding waterfowl and heronry. Please do not disturb the wildlife. Access to this site has not been previously possible due to its various designations and being a very sensitive area for wildlife. Privileged, organised access has now been arranged through the generosity and goodwill of the owner, tenant and site manager. Please do nothing that jeopardises visiting this superb geological section and act within the constraints of the permitted access.