Eggardon Hill SY534.951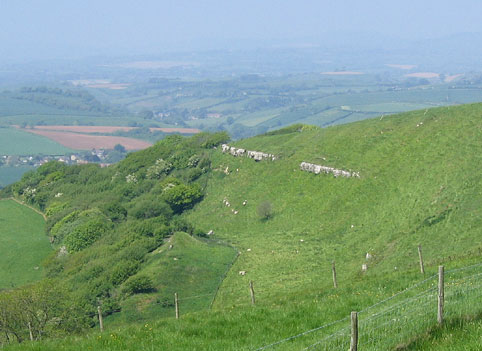 Site description: Natural outcrop. Steep inland cliff and crags.
Note: remaining crags are within SSSI.
Geology: Lower Cretaceous, Upper Greensand. The higher levels of the Upper Greensand in West Dorset is well known for its thick development (several metres) of a coarse sandstone – the Eggardon Grit. This is the type
locality. It has produced late Albian and lower Cenomanian ammonites in its upper levels, which are therefore about the same age as the lowest Chalk to the east (Isle of Wight).
Access: Follow track to the west from the parking area (see below). Exposures immediately on left. Outcrops on private land. By prior arrangement, e-mail us for contact details.
Parking: Parking for a few cars by roadside along NE side of Eggardon Hill (536.952).
Size of party: 25
Education level: Schools