Vinney Cross – road cutting south side A35. SY508.928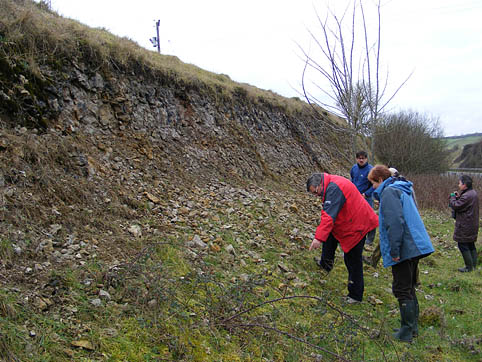 Site description: Road cutting with exposures in small field on south side of road.
Note: Sections on north side of road are owned by Ministry of Transport and are considered UNSAFE.
Geology: Jurassic, Inferior Oolite. Well bedded sequence of arenaceous and ferruginous limestones. Very fossiliferous with ammonites, belemnites, bivalves, gastropods, brachiopods and echinoids. The "snuff-box bed" is well exposed providing a good marker horizon for the lower Bajocian.
Access: Access to site is via a bridleway at the eastern end of the section. By prior arrangement, e-mail us for contact details.
Parking: Reasonable parking for a few vehicles off the A35 on the minor road to the north.
Size of party: 15
Education level: A level/University.